Construction Sheathing in Melbourne and Brevard County Florida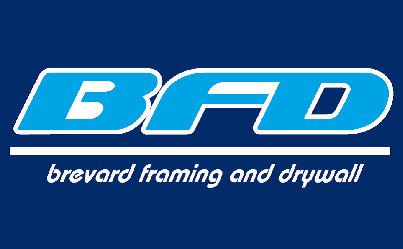 Brevard Framing and Drywall offers wall and roof sheathing installation in Melbourne, Florida and the surrounding cities of Brevard County, Florida. Exterior wall sheathing helps protect and strengthen your home or commercial building. Roof sheathing is a crucial part of the roofing system and proper installation in required for long-term durability and reliability. Another name for roof sheathing is roof decking, it is the layer of strong wood boards which attack to the trusses and joists. Roof and wall sheathing provides a sturdy support system and is an important part of the foundation for your Melbourne, Florida home or business.
Additional Support and Strength – As the base material for siding and roofing, sheathing provides needed support and strength for your residential or commercial structure. Roof sheathing allows for the weight places on the roof to be distributed evenly. Exterior wall sheathing is the base siding applied to and also helps to prevent water and wind from entering the home. Wall sheathing can be structural or non-structural. Non-Structural Sheathing

is applied onto exterior wall framing where bracing has been installed. This type of sheathing provides a barrier against outside temperatures, like soaring heat we experience in Brevard County, Florida.

Structural Sheathing

is attached to the exterior wall framing and assists the wall in bracing against exterior and interior forces.
Leak Protection – Ensuring leak protection and weatherproofing is essential for construction projects in Melbourne, Florida and the surrounding areas. Not only do we get quite a bit of rain each year, but we also experience an annual hurricane season. As such, the strength and durability of your home or commercial building materials is a must. Protecting your home with the use of weatherproof sheathing can help stop leaks before they begin.
Fire Proofing Protection – Sheathing can help prevent fire and most materials used for sheathing are fire retardant. While we can't say they are 100% fireproof, sheathing can significantly lower the risk and spread of a potential fire.
Contact Brevard Framing and Drywall!
Our knowledgeable team is ready to assist you and answer any questions you may have regarding sheathing installation. Contact us today by calling 321-802-6036 or by filling out the contact form found here.